Coffee & Coffee Brewers

Big Town Service with Small Town Convenience!!
Keurig Single-Cup Brewers
24 Count Mix and Match
or buy all one kind
Green Mountain Coffee Special
$12.50 24 Count Box when you buy 2 or more boxes
Green Mountain Coffee
Keurig B30 - $99.95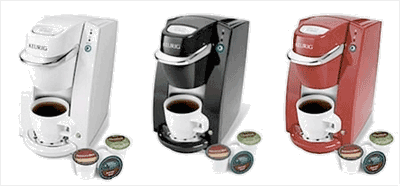 The B30 Mini is perfect for your private office, vacation retreat, or dorm room.
Heats & brews in less than three minutes
Brews an 8 oz. cup
Automatic Shut-off option
2 free 5-packs (10 K-cups) included
REGULAR BLENDS
Our Blend
French Roast
Donut House Blend
Dark Magic Extra Bold
Breakfast Blend
Vermont Country Blend
Newman's Special Extra Bold
Columbian Supreme
Nantucket
Lake & Lodge
Organic Sumatra Extra Bold
Double Black Diamond
Three Continent Blend
DECAF
Half Caff
Hazelnut Decaf
Vermont Country Blend Decaf
French Roast Decaf
French Vanilla Decaf
Breakfast Blend Decaf
Newman's Special Decaf
Dark Magic Decaf
Donut House Decaf
Keurig Special Edition B60 - $149.95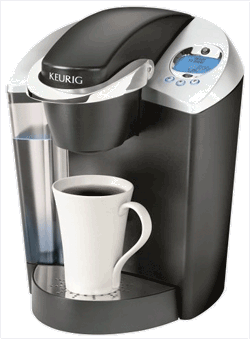 The Keurig Special Edition B60 sets the standard for single-cup brewing with great features, style, and value.
Three brew sizes; 5.25 oz., 7.25 oz., and 9.25 oz.
Quiet brew technology

NEW!

Adjustable brew temperature
Blue back-lit LCD display and water reservoir
Digital clock, programmable on/off timer
Removable 48 oz. water reservoir
Removable stainless steel drip tray
Chrome handle and faceplate
Automatic shut-off option
1 free sampler box (22 cups) included
FLAVORS
Swiss Miss Hot Cocoa
Hazelnut
French Vanilla
Mocha Nut Fudge
Southern Pecan
Caramel Vanilla Cream
Wild Mountain Blueberry
Chocolate Glazed Donut
Cinnamon Roll
Timothy's KALUHA
CAFÉ ESCAPES
Milk Chocolate Hot Cocoa
Dark Chocolate Hot Cocoa
Café Mocha
Chai Latte
Café Vanilla
(these are higher priced than the regular coffees)
SEASONAL COFFEE
Golden French Toast 01/04 to 03/19
Island Coconut 03/22 to 06/04
Pumpkin Spice 06/23 to 11/12
Spicy Eggnog 11/16 to 12/25
Gingerbread 11/16 to 12/25
Celestial Seasonings
Keurig Elite B40 - $119.95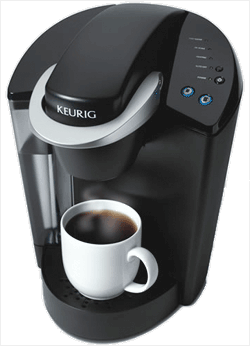 The Elite B40 offers ultimate convenience at the ultimate value.
Two brew sizes: 7.25 oz. And 9.25 oz.
Removable 48 oz. water reservoir
Quiet brew Technology

NEW!

Easy-clean plastic drip tray
Automatic shut-off option
1 free Sampler box (22 K-cups) included
TEA
Earl Grey Tea
English Breakfast Tea
Lemon Zinger Tea
Authentic Green Tea
Mandarin Orange Spice Tea
Green Tea Decaf
India Spice Chai Tea
Sleepytime Herbal Tea
ICED TEA
Half and half
Southern Sweet Tea
Lemon
Peach
Raspberry
Unsweetened Black Tea
Snapple
Lipton
Indulge Rich Black Tea
Soothe Smooth Green Tea
Keurig Platinum - $179.95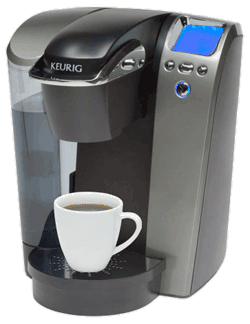 Five brew sizes: 3.25 oz., 5.25 oz., 7.25 oz., 9.25 oz.,and 11.25 oz.
Adjustable brew temperature
Blue back-lit LCD display and water reservoir
Digital clock, programmable on/off timer
Larger 60oz. Removable water reservoir
Automatic shut-off option
1 free Sampler box (22 K-Cups) included
Gloria Jean's
Grove Square
Hot Chocolate
French Vanilla Cappuccino
Caramel Cappuccino
Hazelnut Cappuccino
Donut Shop
Chocolate Chip Cookie
Dark Roast
Original
Vanilla Hazelnut
Vanilla Hazelnut Decaf
Van Houtte
Belgian Chocolate
Pecan Praline
Chocolate Raspberry Truffle
Crème Brûlée
Butterscotch Caramel
Barnie's Coffee Kitchen
Barnie's Blend
Crème Brûlée
Southern Pecan
Tully's
House Blend
Italian Roast
Hawaiian Blend
Folgers
Classic Roast
Lively Columbian
Black Silk
Caramel Drizzle
Vanilla Biscotti
Eight O'Clock
Original
Hazelnut
Dark Italian Roast
Caribou Coffee
Mahogany
Caribou Blend
Daybreak Morning
Caribou Blend Decaf
Coffee People
Black Tiger
Donut Shop
Jet Fuel
Barista Prima
Columbia
Italian Roast
Decaf Italian Roast
Brooklyn Bean Roastery
Breakfast Blend
Brooklyn Bridge Blend
Cyclone
Fuhgeddaboutit
Vanilla Skyline
Breakfast Blend Decaf
Columbian
Express-O
Cinnamon Subway
Maple Sleigh
Boardwalk Blend
Corner Donut Shop
Coney Island Caramel
Oh Fudge!
Cake Boss
Raspberry Truffle
Chocolate Cannoli
Vanilla Buttercream
Chocolate Fudge Cake
Hazelnut Biscotti
Italian Rum Cake
Guy Fieri
Chocolate Mint
Hazelnut Cinnamon Roll
Caramel Apple
Bananas Foster
Hot Fudge Brownie Bread Pudding
Wolfgang Puck
Signature Blend (Regular & Decafe)
Creme Caramel
Jamaica Me Crazy
Krispy Kreme
Ciders